Chicken Tagine With Lemon and Olives
Sageca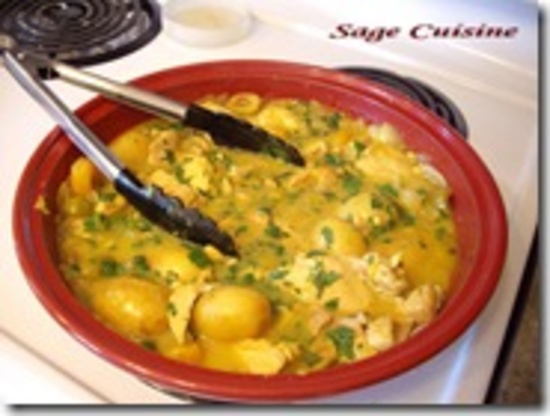 This combination of cooking-methods allows the food to slow-cook from all directions to make a perfect, fragrant casserole with exotic flavours. It is a one pan meal; you brown your meat in the same pan that you cook and follow the direction.
Combine juice and chicken in a large zip-top plastic bag. Seal and marinate in refrigerator 30 minutes.
Remove chicken from bag; discard marinade.
Pat chicken dry with paper towels.
Dredge in flour; sprinkle with salt, black pepper, turmeric, and red pepper.
Heat olive oil in a large nonstick skillet with high sides over medium-high heat.
Add half of chicken; cook for 3 minutes on each side or until lightly browned.
Remove from pan. Repeat procedure with remaining chicken.
Add onion, ginger, and garlic to pan; sauté 5 minutes or until tender. Return chicken to pan.
Add broth, olives, rind, potatoes, cinnamon stick, apricots and almonds; bring to a boil.
Cover, reduce heat, and simmer 1 hour or until chicken is tender. Discard the cinnamon stick; stir in parsley.
Serve with couscous.