Chicken Tagine With Apricots and Honey
Rita1652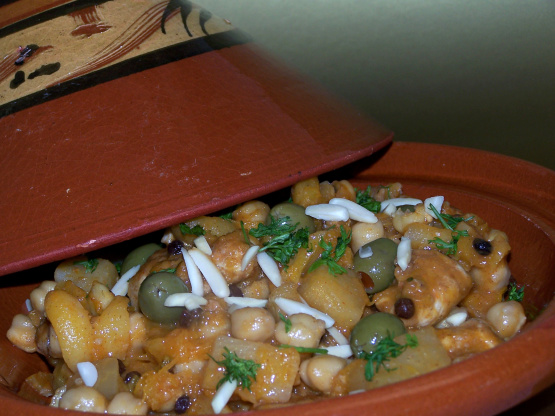 A tagine is a Moroccan clay pot used for long slow cooking or braising of succulent stews most often served with couscous. This is an Americanized version of a typical dish that one can easily prepare at home. I love the sweet and spicy contrast found in many dishes from this region and often add a bit of harissa.

I found that the cooking and preparation times for this recipe are way out -- it took about twice as long as stated! (Just dicing a squash takes forever; and simmering 'til tender takes at least 15 minutes, covered... but I digress!) Despite this and that, whilst the recipe isn't complicated, there are a lot of ingredients to play with, it was surprisingly tasty and worth the hassle. The honey was somewhat lost and it could have done with a few more currants; but by in large, it was good -- the apple is a great addition. (Oh, by the way, if you don't get canned chickpeas, they need to soak overnight: I didn't realise this, but managed to make them reasonable by microwaving the Hell out of them!) Finally, don't forget the cinnamon -- it's mentioned as an ingredient, but doesn't show in the recipe: I assume it goes in at step 2.
Prepare couscous as directed on package. (Some couscous calls for a 1:1 ratio of couscous and water, others 2 parts water to 1 part water.).
Combine flour, paprika, corriander, salt, cinnamon and cumin. Dredge the chicken strips in the flour mixture, shaking off and saving the excess coating.
Mix the remaining flour into the broth, removing any lumps.
In a non-stick large pan or Dutch oven, heat the oil over medium heat. Add the chicken and cook until lightly browed, about 5 minutes, Transfer cooked chicken to a plate.
Add the broth to the pan along with the squash, turnips and apricots. Bring to a low boil, lower heat a touch and simmer about 10 minutes until the vegetables are tender.
Return the chicken to the pan with the vinegar, apple, currants, chickpeas and honey. Simmer until the chicken os cooked through and the apples are tender, about 5 minutes.
To serve, place the couscous onto a large plattter or individual serving bowls. Create a small hollow in the center. Pour the chicken in the center and serve.