Chicken Tagine With Apricots and Almonds
Rita1652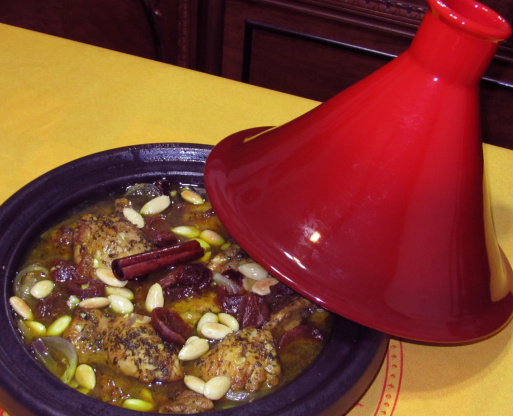 This is from Gourmet magazine, May 2006. This Moroccan recipe is served at Jnane Tamsna in Marrakech.

Top Review by ImPat
Gosh the smell of this was driving me crazy as it cooked and didn't disappoint. Lovely juicy chicken with a hint of spice and sweetness. I served over a simple couscous which I cooked with chicken stocked infused with some safron. For 3 of us I used 3 thighes and 3 drumsticks (though the DM only ate her thigh) and cooked up 1 cup of couscous (with the DS getting half of it and the DM and I shared the other half which was plenty for us). Also I dry roasted the almonds but only used just over half of them between the 3 of us so would cut the quantity of those back to about a 1/3 of a cup. I kept all other quantities as per recipe and cooked as per (with the exception of the almonds as mentioned) and the result was flavoursome tender chicken. Thank you breezermom, made for Potluck Tag and taken to Any Type of Meat Lovers Party.
Stir together ground cinnamon, ginger, turmeric, pepper, 1 teaspoon salt, and 2 tablespoons oil in a large bowl. Add chicken and turn to coat well.
Heat butter and 1 tablespoon oil in base of tagine (or in large heave 12 inch skillet), uncovered, over moderate heat until hot but not smoking, then brown half of chicken, skin sides down, turning over once, 8 to 12 minutes. Transfer to a plate. Brown remaining chicken in same manner, adding any spice mixture left in bowl.
Add onion and remaining 1/4 teaspoon salt to tagine (or skillet) and cook, uncovered, stirring frequently, until soft, about 8 minutes. Add garlic and cook, stirring occasionally, 3 minutes. Tie cilantro and parsley into a bundle with kitchen string and add to tagine along with 1/2 cup water, chicken, and any juices accumulated on plate. Reduce heat and simmer, covered, 30 minutes.
While chicken cooks, bring honey, remaining cup water, cinnamon stick, and apricots to a boil in a 1- to 2-quart heavy saucepan, then reduce heat and simmer, uncovered, until apricots are very tender (add more water if necessary). Once apricots are tender, simmer until liquid is reduced to a glaze, 10 to 15 minutes.
While apricots cook, heat remaining 1/4 cup oil in a small skillet over moderate heat and cook almonds, stirring occasionally, until just golden, 1 to 2 minutes. Transfer with a slotted spoon to paper towels to drain.
Ten minutes before chicken is done, add apricot mixture to tagine. Discard herbs and cinnamon stick, then serve chicken sprinkled with almonds on top.