Monica P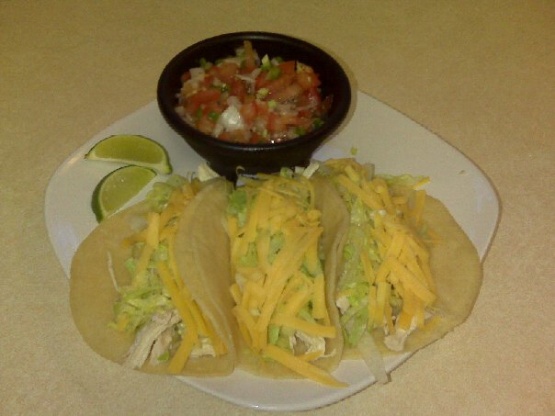 A nice alternative to beef. Top it off with a bit of salsa and Olé!

Quick and easy dinner. I do not use chicken taco seasoning instead I make home made Pico De Gallo to pile up inside them and I steam my tortillas instead of frying them and just have soft tacos instead. I always use the Mexican sour cream just because it is so creamy and tasty. I serve these with Fideo. (a Hispanic pasta side dish I'm sure you could find a recipe on here) or Spanish rice.
Preheat the oven to 350 degrees F.
Put the taco shells on a cookie sheet.
In a skillet, combine the taco seasoning and 1 cup water.
Bring to a boil; add the cooked chicken and simmer 10 to 15 minutes, until most of the liquid is absorbed into the chicken.
Bake the taco shells 5 to 7 minutes, until warm.
Place 1/4 cup of the chicken mixture in each taco shell.
Top each with 2 tablespoons Cheddar cheese, 1 tablespoon sour cream, some shredded lettuce, diced tomato, and chopped onion.
Serve immediately.