Pixie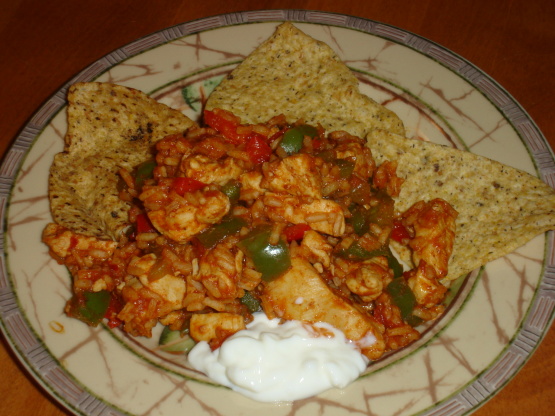 Wonderful quick meal. Originally found on the back of a Minute-Rice box. Can e served with warm tortillas, chips, salsa, chile con queso or sour cream.
I only had regular rice so I let it simmer at a low boil for 17minutes to cook the rice. My husband absolutely LOVED this dish! He has been asking for it ever since. I thought the chicken could use a little seasoning on it's own. Maybe salt, pepper, garlic on the skin. But overall it was a great recipe and a definite keeper!!!
Cut chicken into 1 inch cubes.
Satue chicken in oil in a dutch oven or other large pot until lightly browned.
Add chicken broth, tomato sauce and Taco seasoning mix to pot, stir to combine.
Bring to a boil then reduce heat to medium.
Simmer for 5 minutes.
Add corn and pepper, increase heat and return to a boil.
Add uncooked rice and reduce heat.
Cover and simmer approximately 10 minutes or until it reaches your desired consistency.