Alskann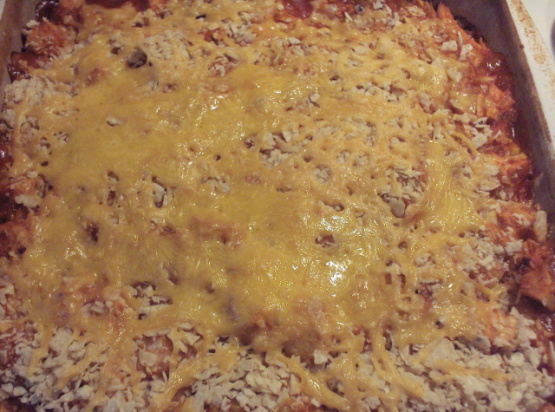 An easy and pleasing taco casserole.

This was good, everyone liked it. Couple of things: 1) I had to double the Bisquick and milk in order to get it to spread across the bottom of an 8x8 baking dish; 2) I used 2 large chicken breasts and thought it was too meaty so next time I'll use about 1 1/2 large breasts (frozen Foster Farms brand from Costco) or 2 medium sized ones; and 3) I think it needed some more umph in terms of flavor, not sure what though. I used to use the Las Palmas mild flavor enchilada sauce but for some reason it is now too spicy for the kids so for this recipe I used a different brand and maybe that is where the flavor was lacking. This is a recipe I will make again but will tinker with it to get the taste to our liking.
Mix together Bisquick and milk and spread into a lightly greased square baking dish.
Combine the rest of the ingredients except for topping in a bowl, then spread on top of Bisquick crust.
Top with more cheese if you like and chips.
Bake covered for about 30 minutes at 375°F.
Broil for a few minutes for if you want the top cheese layer to be crunchy.