3 Reviews
Most Helpful
Newest
Highest Rating
This is a perfect recipe for anyone watching their weight. The tabouli is so filling. And by adding chicken - you get a very rounded lunch. I agree with the author that if you're making this for a week of lunches, you will not want to add the tomato and cucumber until the day you're going to eat it. I will prep my lunch the night before and add the tomato/cucumber then. It's fine. But if you add them earlier, they really get mushy and lose that wonderful freshness.

This is one of my diet go-to recipes! Awesome!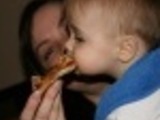 Wow!! Flavor pOpS! I picked up quick cooking couscous so I used just 1 cup of water...but did everything else as you listed. My son loved it and I'm looking forward to making it for our families Christmas party. Pretty dish and Great flavor!! Thank you for sharing!
Chicken Tabouli (Tabbouleh)