Chicken Tabouli (Tabbouleh)

You will love this! It's the perfect recipe for a luncheon. Also a good make-ahead recipe for the week. Since I like keeping the seeds in the tomatoes and cukes, I just make the salad without them, then dice them fresh and mix them in each time I serve it. You may want to seed them if you throw it all together at once. I got this from a friend, but I think it came from cooking light or southern living. Serve with bread/butter.
Directions
Preheat oven to 350.
In heat-proof bowl, pour the boiling water over the bulgur wheat. Add the lemon juice, 1/4 c olive oil, and 1 1/2 tsp salt. Stir, cover bowl with plastic wrap and allow bulgur to stand at room temp for an hour.
Place chicken on a baking sheet and rub it with olive oil. Sprinkle liberally with salt and pepper. Roast for about 35-40 minutes, until just cooked. Set aside until cool enough to handle.
Remove chicken meat and medium dice. Add to the tabbouleh. Add scallions, mint, parsley, cucumber, tomatoes, 2 tsp salt, 1 tsp pepper. Serve immediately or cover to refrigerate.
Most Helpful
This is a perfect recipe for anyone watching their weight. The tabouli is so filling. And by adding chicken - you get a very rounded lunch. I agree with the author that if you're making this for a week of lunches, you will not want to add the tomato and cucumber until the day you're going to eat it. I will prep my lunch the night before and add the tomato/cucumber then. It's fine. But if you add them earlier, they really get mushy and lose that wonderful freshness.

This is one of my diet go-to recipes! Awesome!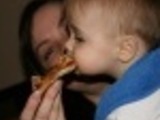 Wow!! Flavor pOpS! I picked up quick cooking couscous so I used just 1 cup of water...but did everything else as you listed. My son loved it and I'm looking forward to making it for our families Christmas party. Pretty dish and Great flavor!! Thank you for sharing!
You're right I love this. Why I never thought of adding chicken before in Tabouleh is beyond me, the flavors compliment each other wonderfully. Thanks for broadening my narrow mind.