Chicken & Sweet Potato Crock Pot Stew
Bev I Am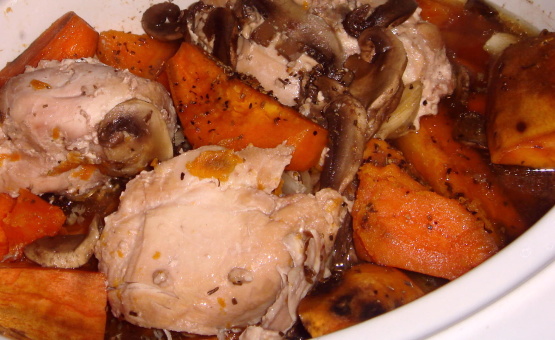 No time for cooking? Try this wonderfully satisfying and flavorful stew made in your crock pot! I found this recipe in Eating Well Magazine.

I prepared this, but used one of the big packs of thighs - had 9 in it I think. My husband doesn't like rosemary, so I subbed cardamom (same amount as rosemary). I didn't do the vinegar at the end. The stew was very good - except I found it too liquidy and fatty. I think I might remake it with chicken breasts next time. Thanks for sharing!
Place chicken, sweet potatoes, mushrooms, shallots, garlic, wine, salt and pepper in a 6 quart crock pot; stir to combine.
Cover and cook on low until the potatoes are tender, about 5 hours.
Before serving, remove bones from the chicken, if desired, and stir in vinegar.