Derf2440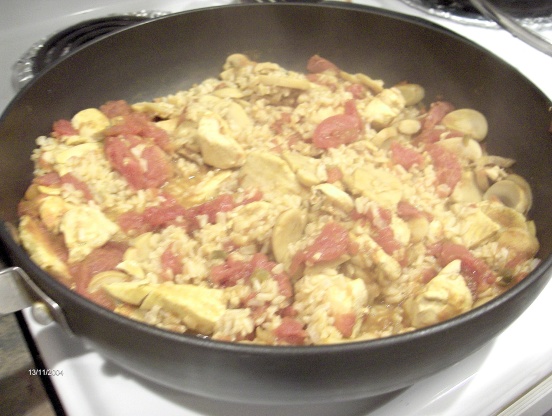 Submitted by Treva from kitchencraftsnmore newsletter. It should surprise no one that this chicken and rice casserole with tomatoes and mushrooms tastes great!

Sorry for the 3*, but the instructions on this recipe are very poor. I presume the rice was supposed to be instant and was to have the mushrooms and tomatoes added after the rice was done. In any case I had no instant so I cooked this kind of like a pilaf. I made 2 cups of chicken broth added the stewed tomatoes, mushrooms, and a cup of uncooked long grain rice and the poultry seasoning, let it simmer for about an hour; it turned out quite good, Sorry !!Your instructions need to be fixed, I did try to contact you, especially as this was one of my choices for Pick a chef.
Saute chicken in a large skillet over medium high heat until it is cooked through and juices run clear.
Meanwhile, bring water and bouillon to a boil in a large pot; when boiling, add rice, stir, cover pot and remove from heat.
Let sit 5 minutes or until To rice add cooked chicken, tomatoes and mushrooms and stir together over medium low heat to heat through.
Serve hot.