Chicken Stuffing Casserole
Annacia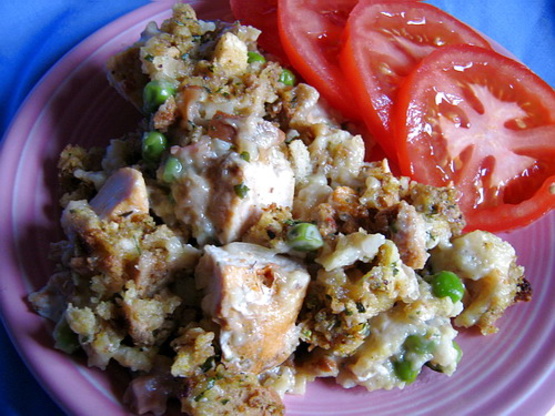 Extra veggies make this dish a hit with kids and parents alike! It helped my picky eaters learn to like more veggies. This is a low-maintenance dish, quick & easy, especially if you prep the chicken or even the whole casserole the night before. I also like to make this with Thanksgiving leftovers, but it's good any time of year you have leftover poultry. I also improve the nutritional value by using low-fat, low-sodium, and whole-grain products whenever possible or by substituting homemade ingredients.

this really didn't turn out very good for me. didn't have much flavor and i couldn't get my husband and toddler to even finish a serving. sorry to leave a bad review but i had higher expectations for this.
4

cups cooked boneless skinless chicken breasts, cubed (about 4 large breasts)

2

(6 ounce) packages Stove Top stuffing mix (low-sodium preferable)
1⁄2 cup unsalted butter (low-fat if possible)

1

cup skim milk

1

cup water or 1 cup low sodium chicken broth

3

cups frozen vegetables (broccoli, cauliflower, green beans, peas, carrots, corn, or your favorite frozen veg. blend)

2

(10 1/2 ounce) cans cream soup (mix or match celery, chicken, or mushroom)
Preheat oven to 350 degrees F.
Evenly cover bottom of ungreased 13x9-inch pan with cubed chicken.
Layer frozen vegetables evenly over chicken.
In a mixing bowl, combine cans of soup with milk, mixing well, and pour evenly over vegetables.
Combine stuffing, butter, and water or chicken broth until stuffing is coated. Spread evenly over top layer.
Bake uncovered 35-40 minutes or to desired crispness of stuffing.
NOTES: I significantly reduce the sodium content by using low-sodium foods whenever possible and by replacing the Stove Top with my homemade stuffing.