Bobtail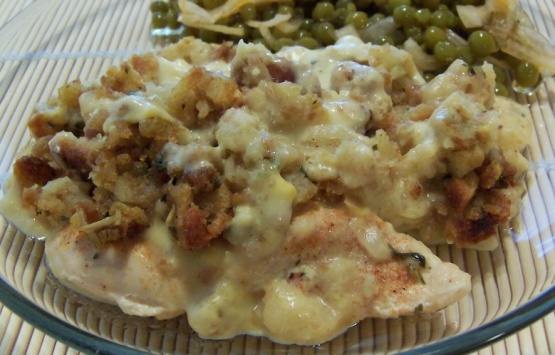 This is a wonderful 1-dish meal that my kids just LOVE! It's so easy that I can make it as soon as I get home from work, and when it's done in the oven, the kids think they've had a wonderful home-cooked meal! Yum! (Oh, by the way, I PREFER to use the Campbell's Cream of Chicken Dijon soup, but I can't find it anymore in Indiana...)

Very good recipe. I did change it up a bit. I mixed cream of mushroom with the sour cream and milk. I also put fresh green beans and mushrooms around the chicken breast but I did not cover them with the stuffing..only the chicken. I started off baking it at 325 but after 25 minutes I checked the chicken and realized that it was not cooking as fast as I expected (I used 2 large breasts) so I bumped it up to 425 and covered it with aluminum foil. I cook for another 25 minutes. Then broiled it on low for 4 minutes to make the top of the stuffing crispy. The chicken was very moist. I just needed to add a bit more salt. Maybe next time add a little more seasoning. Will be making again!
Mix contents of stuffing mix pouch and the 1-2/3 cups water. Set aside.
Place washed and dried chicken in a 2-quart casserole (or 13 x 9 inch baking dish). Sprinkle chicken with poultry seasoning, paprika, garlic powder, salt & pepper (for seasoning).
Mix soup, sour cream and milk. Pour mixture evenly over chicken.
Spoon stuffing mixture over the top, evenly.
Dot the top with little pieces of butter.
Bake at 375 degrees for 45 minutes, or until the chicken is cooked through and the juices run clear.
YUM! :).