3 Reviews
These are fantastic! They will definately change your mind on stuffed peppers if the only ones you've ever had were the ground beef/rice/tomato sauce/blah version. These are packed with flavor, the spices are wonderful. I made the recipe exactly as written, didn't skimp on the spice or anything. I'll make these again and again, for sure! Thanks for sharing the recipe SweetySJD, made for Pick-A-Chef Fall 2011.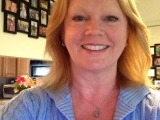 You and I read the same magazine. I have made this several times and it is delicious. I usually use all red peppers because I prefer them but either way this is a tasty and fairly easy recipe.
When I read this I wasn't sure I wanted to try this one. I read it to DH and he thought it sounded too good to pass up!! I made as directed and we all loved it. Even the kids ate it, but I did tone down the spices a bit so they would. I love using ground chicken in most of my recipes, I think the flavor is just great, better than beef. I will make a double batch of this next time, as there were no leftovers. IF YOU ARE READING THIS, YOU MUST TRY THESE. Thank you.
Chicken Stuffed " Chili" Bell Peppers