Chicken Stuffed " Chili" Bell Peppers
Prep 25 mins
Cook 10 mins

I love stuffed peppers and I think that this is an interesting take on them. Ground turkey would probably work well too. I got this from Family Circle magazine.
Directions
Heat oven to 350°F.
Slice peppers lengthwise and clean out seeds.
In a large skillet heat oil over medium-high heat.
Add onion, cook and stir about 3 minutes.
Add red pepper, cook and stir about 2 minutes.
Add ground chicken, cook, stirring occasionally, until no longer pink.
Stir in chili powder, oregano, salt, pepper and cumin; cook 2 minutes longer.
Mash half the beans coarsely.
Stir all beans, barbecue sauce and tomato paste into chicken. Cook about 2 minutes and remove from heat.
Fill each pepper with the mixture and top with cheese.
Bake peppers until heated, about 10 minutes. Garnish with sour cream.
Most Helpful
These are fantastic! They will definately change your mind on stuffed peppers if the only ones you've ever had were the ground beef/rice/tomato sauce/blah version. These are packed with flavor, the spices are wonderful. I made the recipe exactly as written, didn't skimp on the spice or anything. I'll make these again and again, for sure! Thanks for sharing the recipe SweetySJD, made for Pick-A-Chef Fall 2011.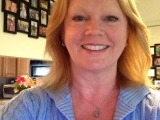 You and I read the same magazine. I have made this several times and it is delicious. I usually use all red peppers because I prefer them but either way this is a tasty and fairly easy recipe.
When I read this I wasn't sure I wanted to try this one. I read it to DH and he thought it sounded too good to pass up!! I made as directed and we all loved it. Even the kids ate it, but I did tone down the spices a bit so they would. I love using ground chicken in most of my recipes, I think the flavor is just great, better than beef. I will make a double batch of this next time, as there were no leftovers. IF YOU ARE READING THIS, YOU MUST TRY THESE. Thank you.