Chicken Stroganoff for Beginners
ImPat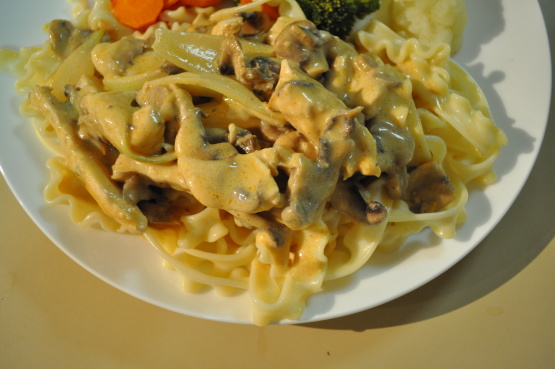 I've been making this for years, when the family ask for 'that chicken and sauce thing, with mushrooms', this is what they are after! Of course, they can all make it themselves now, its one of the first recipes my son asked me for, so that he could make it for his girlfriends family! Although I use skinned de-boned fillets for this, use what is most convenient for you. If I don't have sherry, I use whatevers handy in the cabinet, rum, or vermouth, or my husbands whisky (don't tell him!). Oh, and I usually don't add the mushrooms with the onions, I prefer to add them a few moments later, after I've added the water. That's a personal preference. From one of my oldest and dearest cookbooks, I taught myself to cook from this book, Reader's Digest 'Quick & Thrifty Cooking In South Africa'.

We have always had beef stroganoff but sure did enjoy this chicken version. I used chicken tenderloins that I cut into bite size pieces, baby portabella mushrooms, chicken broth for the sherry, and sour cream. Also added some minced garlic and lemon pepper then served over kluski noodles. Easily could be a full meal by adding some broccoli or spinach and very versatile with the seasonings. Made and reviewed for PAC Spring 2013.
Cut each chicken breast into 10 or 12 strips.
Melt the butter in a large frying pan over moderately high heat.
Add the chicken and sprinkle with salt.
Cook for two minutes, stirring constantly.
Add the onion, mushrooms and paprika, and cook two minutes longer, continuing to stir.
Add the water. Reduce the heat to moderate, cover, and cook for another two minutes.
Meanwhile, combine the flour and sherry in a small bowl.
Add the mixture to the pan, and cook, stirring rapidly, until the mixture thicken, about 1 minute.
Add the sour cream or yoghurt and stir the mixture until heated through. Do not let the mixture come to a boil.
Serve over rice.