ImPat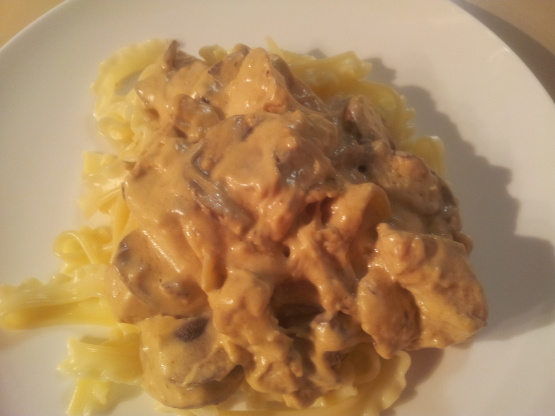 Good recipe to use up extra baked chicken pieces or you can bake boneless chicken just for this recipe. Yummy comfort food that the kids even love!

Top Review by ImPat
I made as per recipe but found the sauce to be so thick that it looked like gluggy glue so thinned it down with some more yoghurt (I did use Greek style yoghurt as I find it does not split on me like natural does) and sour cream (I used full fat for the same reason as I used Greek style yoghurt) and a bit more paprika but the taste was still out of balance and the yoghurt taste was very strong, but I will give it another go but only use 1 tablespoon of flour especially with using Greek style of yoghurt and full fat sour cream as they tend to be thicker in texture to their low fat varieties. Thank you Chef Joyous, made for Name that Ingredient tag game.
Spray a skillet with nonstick cooking spray.
Saute onion and mushrooms in olive oil.
Add cooked chicken and cook for 3-4 minutes or till warm.
In a small bowl mix yogurt, sour cream, flour, paprika and salt.
Stir in yogurt mixture and cook until slightly thickened and bubbly.
Serve over hot noodles.