Chicken Strips With Cheddar
Jubes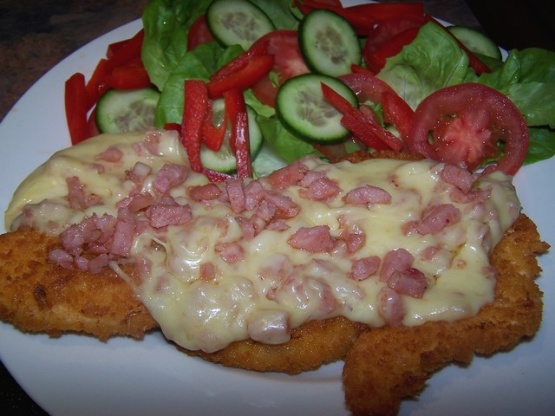 A great appetizer or it can be a full dinner with a salad. Posted for the World Tour 2006 - England!

Top Review by ImPat
I used 6 skinless breasts halves but did not cut them into strips but followed the direction as posted and baked them for 40 to 45 minutes (though gave them a light spray with olive oil before puting into the oven). We really had a problem getting the cheese down to a pourable sauce connsistency and I think I would prefer to make a 1 1/2 cups of white sauce and add a cup of grated cheddar and the bacon. The spices work really well and overall was enjoyed by us all. Made for Recipe Swap #11 - December 2007.
Cut the chicken fillets in strips.
Place each strip first into the egg mixture, then in the flour, again in the egg mixture and at last into the bread crumbs.
Place them on foil, sprinkle with the spices.
Bake them in a preheated oven 350F for 30 minutes. Turn them around ocassionally.
Fry the bacon or microwave and cut in pieces.
Melt the cheddar and then add the bacon to it.
Spoon the sauce over the chicken and serve immediately!