Chicken Stock Using Carcass
Keilty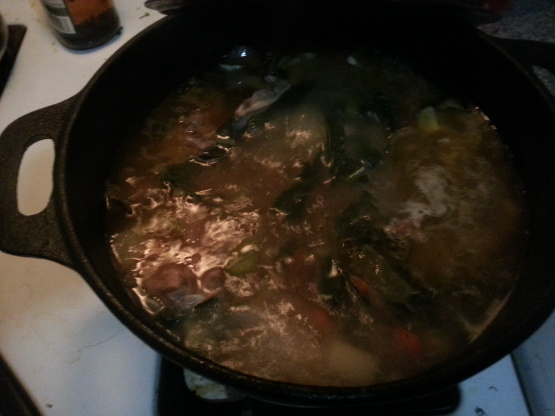 A good way to make stock from a left-over chicken carcass if you've diced it up for other cuts but some meat is remaining.

This recipe was just what I was looking for. It smelled delicious and I can't wait to make some soup with it. BEWARE, though... if you boil your liquid while making the stock, the fat will emulsify and it will turn out cloudy and not very tasty. (Trust me, I did it.) After searching ehow, I found that you can add 2 egg whites (lightly beaten) and shells, 2 T water, 1/2 t vinegar per qt of stock and simmer for 5 minutes. Surprisingly, this clears the stock right up. (I was very skeptical... especially about the shells but it worked like a charm!) I know I'll be using this recipe over and over again (hopefully without the clarifying step next time!). Thanks so much for a great recipe.
Place chicken carcass in medium sized pot and just cover with water.
Bring to boil and then simmer over a low-medium hear for one hour. You may need to keep adjusting the temperature from time to time as some liquid evaporates.
Skim fat from the top of the broth.
Add onion, carrot, garlic, ginger, bay leaf and celery seeds and continue to simmer for 3 hours, stirring once or twice.
Allow stock to cool uncovered.
Strain into a storage container and either use immediately or freeze for later use.