Derf2440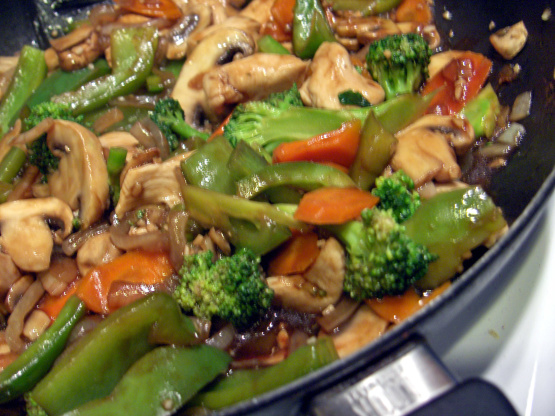 As if there aren't already enough, I thought I'd at least post it for those who have tried all the others. :) I've been making this as long as I can remember. It's not at all authentic, but my family and I love it! Items not listed on ingredient list: 4 healthy appetites and a large wok.

This was very good! My 14 year old son said it was one of his favorites. Very easy to whip up on a busy weeknight and a great way to get fresh vegetables into your kids. The only change I made was to add some crushed red pepper flakes and ground ginger to the chicken when browning. Thanks so much for this recipe!
Cut the chicken into 2 inch cubes. Toss them into a ziplock (or generic -- lol!) bag with the soy sauce. Set the bag in the fridge while you chop your veggies.
Cook the rice according to the directions on the package.
Chop broccoli into bite size pieces (larger if you want to watch your family work for their meal!). Slice the onion into rather thick slices. Cut bell pepper into 1 inch cubes. (Tired yet?). Slice the carrotsand drain the mushrooms -- phew!
Heat the olive oil in your wok and toss in the chicken. Cook until just a little pink is left. Throw in the onions and cook until the meat is done. Put the garlic, broccoli, peppers, and carrots, in the wok and cover for 4-5 minutes.
The mushrooms go in last for just a couple of minutes. Put some rice and the stir fry on the plate and devour with any sauces you'd like to add (teriyaki and soy sauce are my family's choices).
Nudge the person beside you and motion for them to go clean up your mess. :D.