Chicken Stew With Shallots, Cider and Butternut Squash
Ingy1171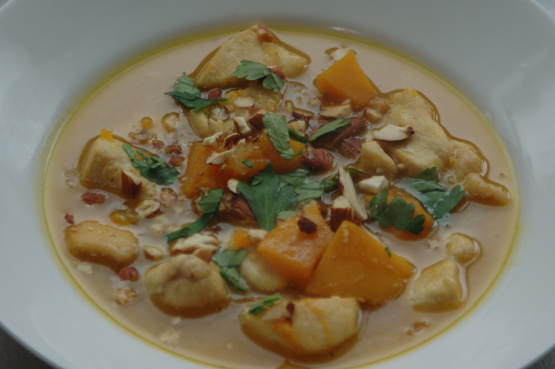 A thick stew lightly spiced with curry, it goes well with rice and green salad. Hard cider is usually found in the beer section of your grocery store. You may also use nonalcholic sparkling dry cider make a good substitute.

Way too acidic. Not balanced. I am so disappointed! This recipe takes quite a bit of work and the cider overtakes the other flavors. It REALLY needs something to balance the acid. My partner suggested maybe adding cream and rutabega... but I most likely won't make this again.
Heat 1 tspn oil in a dutch oven over medium high heat. Add shallots and saute 5 minutes or until tender & golden brown. Add curry powder; saute 1 minute. Spoon shallot mixture into a large bowl.
Place 1/3 cup flour in a shallow bowl or pie plate. Dredge chicken in flour, shaking off excess. Heat remaining 1 tblspn oil in pan over medium high heat. Add half of chicken mixture, sprinkle with 1/4 tspn salt and 1/8 tspn pepper. Cook 6 minutes, browning on all sides. Add browned chicken to shallot mixture. Repeat process with remaining chicken mixture, 1/4 tspn salt, 1/8 tspn pepper.
Add cider to pan, scraping pan to loosen browned bits. Combine 1 cup broth and 1 tblspn flour, stirring with a whisk until smooth. Add broth mixture, remaining broth,and water; bring to a boil. Stir in chicken mixture, remaining 1/2 tspnn salt, and remaining 1/4 tspn pepper. Cover, reduce heat, and simmer 40 minutes, stirring occasionally.
Stir in squash. Simmer, uncovered, 55 minutes or until chicken and squash are very tender, and sauce thickens. Spoon about 1 cup stew into each of 6 bowls; sprinkle each serving with 2 tspns almonds and parsley.