Chicken Stew or Chicken Pot Pie Filling
truebrit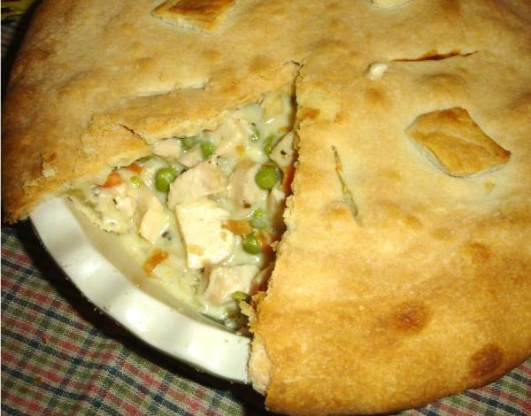 This recipe was given to me by my friend. These instructions are exactly how she gave them to me. I hope it is not to confusing. This is a very good recipe for chicken stew or pot pie filling. It has become a favorite at our house.

I love this recipe and have used it often, everyone seems to enjoy it everytime I serve it. This is a very adaptable recipe because you can add or omit the seasoning you like as well as add the vegetables you prefer in it (or add no vegetables) I make the whole recipe and freeze the rest when I dont need it all at once. I put the unused portions in zip-locked freezer bags and it keeps well.. I like to top this recipe with pepperidge farm puff pastry from the freezer section and I sometimes top it with a pie crust...it is also great with dumplings cooked on top of it..just make sure to thin the sauce a bit to allow for cooking the dumplings...and of course, this is great served over noodles or with the noodles thrown right in it (make sure to thin the sauce to allow for the noodles to cook, they also thicken it a bit. Enjoy ! Judy
5

chicken breasts, cut into small pieces
1⁄4 cup margarine

1

(10 ounce) can cream soup (I prefer cream of chicken)

2

cups frozen vegetables
salt and pepper
Cook chicken and set aside.
Melt 1/4 cup of margarine in pot; add flour until it becomes a thick paste.
Add milk until it becomes a thick sauce stirring constantly.
Add 1 can of cream soup and 1/2 a can of milk.
Make sure sauce is slightly thick.
Put in frozen veggies, chicken and seasonings.
Cook on low heat for about an hour.