Chicken-Spinach Salad With Raspberries
Derf2440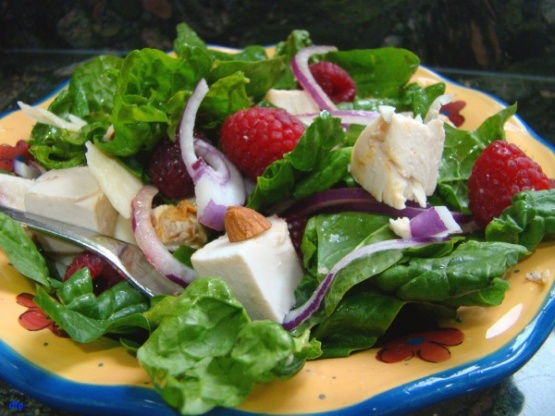 Cook a few extra chicken breasts next time, then make this delicious salad the next day!

A delightful way to use up left over chicken breast with a nice crunch of almonds! I used olive oil and Parmesan cheese, not fond of goat cheese. Loved it, worked out great scaling it to one serving for myself. The raspberries with the chicken and spinach were a lovely combination and the oil & raspberry vinegar made a lovely dressing. Thanks for posting , I will be making this again.
In a large bowl, combine spinach and onion.
In a small bowl, whisk together oil and vinegar; add to spinach and toss well. Add raspberries, cheese and almonds.
Divide salad among 4 bowls, top with chicken and serve.