Ninna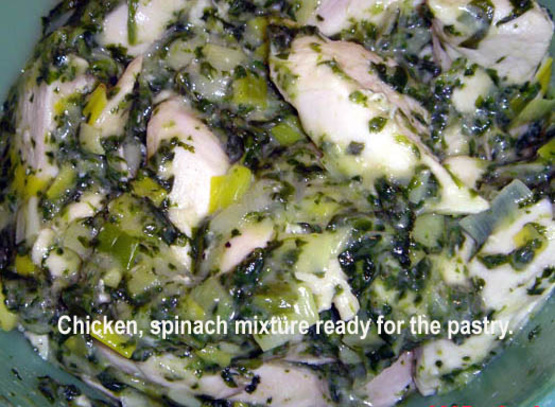 Original recipe from ABC website from chef Lyn Battle. I changed this to make it healthier.
Slice the chicken into strips.
Saute lightly for around 3 minutes, with shallots and cracked pepper.
Add the flour and mix well.
Add the spinach, milk and chicken stock powder.
Heat it till the sauce thickens, remove from the heat and allow it to get quite cool. (You can do this step early, let it sit in the fridge and assemble the parcels later on).
Layer 3 sheets of filo, slice in half, and spoon about 2 heaped tblsp of mixture onto each filo stack, then wrap up into parcels.
Spray lightly with oil, sprinkle with sesame/poppy seeds and bake in a hot oven for around 20 minutes.