Chicken, Spinach & Gnocchi Soup
wingsie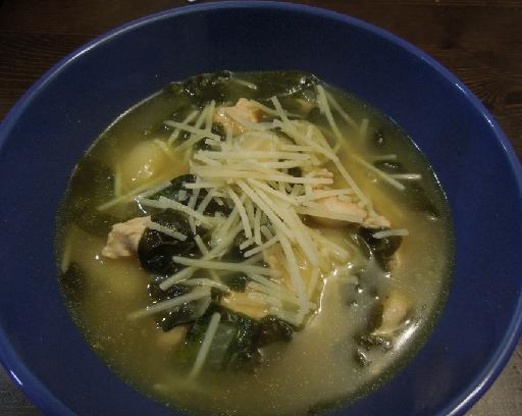 From The Food Network Favorites Cookbook. My friend Maura, sent me this recipe after telling me it was so good, she had dreams about it! Didn't want to lose it.

I make this soup a couple times a month. It is light but still tasty. This recipe is what got me to start cooking with spinach! Even my kids enjoy it (my 4 year old won't eat the spinach of course but LOVES the gnocchi and chicken, my 1 year old will eat every bite). And even my husband, who is a soup-hater (why, I'll never understand), adores it.
2

cups gnocchi, packaged

4

cups chicken broth, low sodium

4

garlic cloves, thinly sliced

2

tablespoons unsalted butter

1

pinch sugar

3

cups baby spinach leaves, sliced to avoid clumping

2

cups cooked chicken, sliced into strips
parmesan cheese, shredded, use a high quality cheese
salt, to taste, remember the cheese is salty
Bring a medium saucepan of cold water to a boil over high heat, then salt.
Add the gnocchi and cook, stirring occasionally for three minutes; Drain and set aside.
Meanwhile, put l/4 cup of the chicken broth, garlic, butter and sugar in a large saucepan over medium-low heat.
Bring it to a simmer, and cook uncovered, until under garlic is tender, about 1 minute.
Add the spinach and let it wilt for about 30 seconds.
Add the remaining 3 l/4 cups chicken broth and the chicken.
Add salt, but be careful because the cheese is salty, and a generous amount of pepper, to taste.
Ladle the soup into warmed shallow bowls and shower each with some freshly grated cheese.