Chicken Spaghetti (with cheesy cream sauce)
Prep 45 mins
Cook 30 mins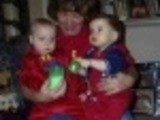 This was my grandmother's recipe. She was a preacher's wife and frequently entertained and/or participated in pot-lucks. It makes enough to fill 2 casserole dishes. My family and others who have eaten it always love it. I usually use one casserole to serve when I have company and freeze a smaller one to use later with just the family.
Directions
Stew the hen.
Debone and tear/cut into small pieces.
Cook the, onions, green peppers and spahetti (according to package directions), in the water used to boil the chicken.
Drain water, mix in the chunked chicken, add mushrooms if desired.
Cream Sauce Melt butter over low heat.
Mix in flour and salt.
Add milk, cook, stirring constantly till mixture thickens and bubbles.
Add cheeses, stirring till melted and blended.
Combine all ingredients.
Put in casserole dish (es) and bake at 350 for 30 minutes.
Most Helpful
Family enjoyed the change from having regular old spaghetti...very cheesy and tasted great!!! I didn't put the mushrooms in though due to the kids don't like them, other then that made like said and turned out wonderful!! It wasn't hard to make either. Thanks for sharing your grandmothers recipe!! Will be adding to my meal plans and make again soon!
I really searched through the various chicken spaghetti recipes and yours sounded easy and delicious, so I tried it out. I am amazed at how much it made--I was cooking for two families (one of 4, one of 6) and there was MORE than enough for both. It was delicious! One note: I added more noodles--I actually did half regular and half wheat. It was great! :)

Great alternative to regular spaghetti!!! Especially if you like cheese.