Chicken Spaghetti a la Grandma Key
PanNan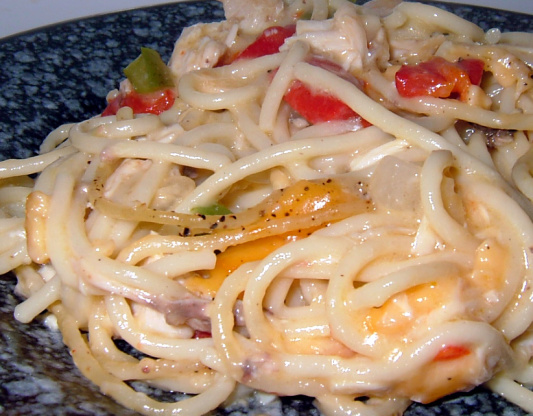 This was one of my grandmother's favorites to serve when she was cooking for a large group of us. I still make it from time to time and it always reminds me of her. It's creamy, cheesy and delicious. Note: you can use chicken breasts instead of the whole chicken, but you do lose some flavor that way.
Boil chicken in 3 qrts water til tender.
Remove chicken, cool, bone, and cut in small bite size pieces.
Cook spaghetti in chicken broth with the garlic salt until tender.
Meanwhile, saute finely chopped onion, green pepper and celery in 2 tbsp margarine til tender.
Add to cooked spaghetti.
Stir soup, chicken, milk, 2/3 of cubed cheese and pimento into spaghetti.
Place mixture in a large baking dish and put rest of cheese (shredded) on top.
Cook in 350 degree oven til bubbly (about 20-30 minutes).