jrusk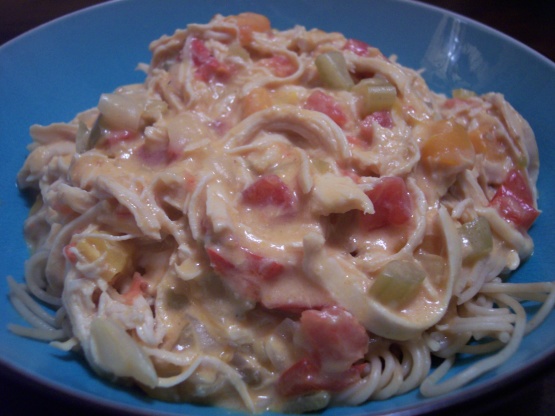 My mother and grandma used to make this all the time when I was a kid. I loved it then, and I still love it today. *This is practically the same as Darlene Summers' recipe, I didn't notice until after I had posted the recipe. Didn't want to steal any of her credit... :P

Top Review by jrusk
Jul 10, 2004 -This was great!!! It seemed unusual and that's why I tried it. It was terrific, I will have it again. Thanks Diana! I did change it to my taste by using lots of onions!, replaced the celery with red, yellow & orange peppers and used some minced garlic & pinch of hots. 10/25/09- I can't believe I've been making this for so many years. Over time I've made just a few changes that kinda makes it my own. This is great to make for a small get- together. My girlfriends love this and even offer to help chop and shred if I'll cook this.
First, place the chicken breasts in a pot with enough water to cover them.
Boil the chicken until completely cooked.
Remove from heat, pour chicken stock into a bowl and set aside for later.
Set chicken breasts aside to cool and chop the vegetables.
By the time you're finished chopping, the chicken should be cool enough to pull apart.
Separate it all into small pieces and set aside for later.
Warm the olive oil in a large saucepan over medium heat.
Add the celery and onion and sauté until onions are clear.
Then, add the soup and diced tomatoes, and mix together.
Start with 1 cup of the chicken stock, and slowly add it to the mixture until the sauce is liquified.
Let that simmer for around 15 minutes.
Then add the 1/2 pound of cubed Velveeta.
Let that dissolve into the mixture, and then add your chicken pieces.
You might have some left over, depending on how meaty you prefer your sauce.
Cover the saucepan and let the mixture simmer over low heat for 45 minutes to an hour, stirring occasionally.
Put your water on to boil for the spaghetti, and add the 1/2 lb spaghetti when the water comes to a rolling boil.
Some people like their pasta al dente, but I wouldn't recommend it for this dish, because you combine the sauce with the pasta once the spaghettini is drained.
Drain your spaghetti, and add the sauce to the pasta.
Mix thoroughly and serve immediately.
The sauce is very versatile and can be used on any sort of pasta.
A friend of mine loved it with penne rigate, and another one even preferred it over orzo pasta or as a sort of risotto.