lazyme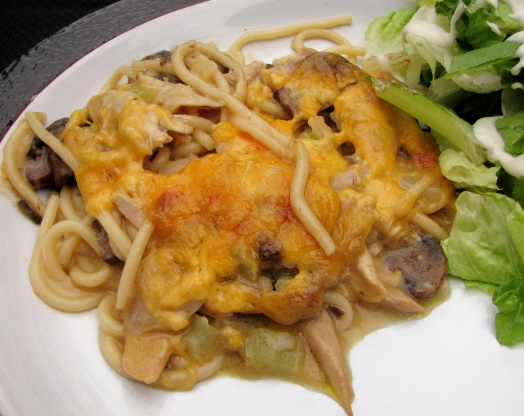 This is my mom's recipe and one of my all time favorites. Always a crowd pleaser.

Made for PAC- Fall 09 It was really easy to bring together (husband who isn't much of a cook made it), and there would only be a couple of things I'd change. I would add a little garlic to pump up the flavours, and also use a more dense pasta, such as penne. I found that the spaghetti was mushy by the time it was ready to eat. I'll be making it again. It was easy and there were lots of leftovers for lunches.
Rinse chicken and remove any parts from cavity. Pat dry and season with salt and pepper. Cook in crock pot for 8 hours. Let cool and debone chicken and set aside (or use store bought rotisserie chicken).
Cook spaghetti leaving slightly under done and set aside.
Melt butter and saute onion and celery. Add mushrooms after about 5 minutes. Whisk in flour, this will make a very thick mixture. Cook flour mixture for a few minutes to slightly brown the flour. Whisk in chicken broth.
Combine spaghetti, chicken, seasoned salt and 1/2 of the cheese.
Place in 3 quart casserole dish. Top with remaining cheese and bake at 350 for 45 minute to an hour, depending on how done you like your cheese.