Boomette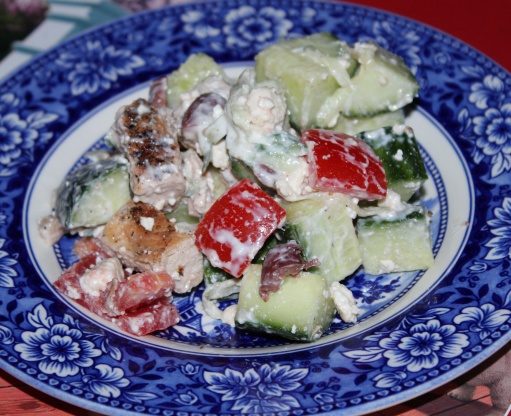 This recipe was in the 'food' section of our local paper a couple of weeks ago. We made it while on a camping trip, a very refreshing and different salad! It has a definite Greek taste and is very low-cal! Time does not include marinating (if you chose to do so).

What a delightful salad this was. Very refreshing and easy to prepare. I especially liked the dressing. I served it with Arabian Pita Bread #17977. My hubby enjoyed it immensly, too! Thanks!
Mix all of the marinade ingredients in a bag with the chicken.
Shake to coat.
Original recipe didn't call for any marinade time, but we marinated for a couple of hours.
Broil, grill, or pan fry chicken until done.
Set chicken aside to cool slightly.
Cut chicken into 1-inch pieces.
Combine all dressing ingredients together in a bowl.
Mix well.
Combine chicken with salad fixins; pour dressing over all and mix well.
Enjoy!