Chicken & Sourdough Dumplings
Nimz1466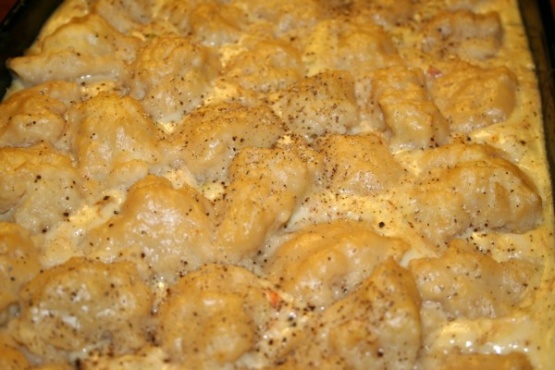 A nice change from traditional chicken and dumplings. A little more work, but worth the effort. Can easily be increased to accomodate more.

This recipe has potential in my opinion. The dumplings were very good, cooked in homemade chicken broth. The Chicken mixture needs some "STUFF". I doubled the sauce because this made a lot of dumplings. I add some carrots, celery and onions that were saute in a little butter as well as some red pepper flakes to kick it up a little. I added the homemade broth in place of the water which added a nice rich flavor. I left out the pimiento, just didn't seem right in this one. This is well worth dinking around with. I liked the oven bake time, it seemed to take a lot of the boiling gunk off the dumplings. All in all a very worthy recipe.
Chicken: Over medium heat add flour to melted shortening.
Stir constantly while adding all other ingredients except chicken.
Add chicken, pour into a 3-quart casserole dish.
Dumplings: In large mixing bowl thoroughly stir together flour, salt, baking soda and baking powder.
Combine milk, egg, sourdough starter, and oil.
Add to dry ingredients all at once, stirring just till moistened.
Drop dough from tbsp into boiling water (dip spoon in hot liquid before dropping dumpling each time to help batter slide right off).
Cover and simmer for 15 minutes.
Remove with slotted spoon, drain and place on top of cooked chicken.
Cook, uncovered in over, at 350º for 10 minutes.
Serve hot.