Chicken Soup - a Gift to Comfort a Friend
Rita1652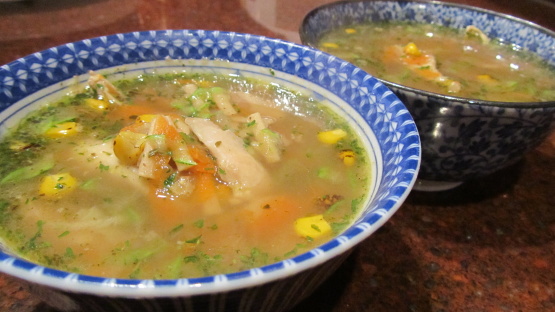 It's been proven...chicken soup is good when you're under the weather. So why not include it as part of a 'Feel Better Soon' gift basket. Add a book, a big soup mug and a pair of warm fuzzy socks. With this gift, and your good wishes, they'll be feeling better in no time. Created for the 2010 Category Craze-E Contest.
In a medium saucepan, bring broth to a boil. Add chicken drumsticks. Bring back up to a boil, then reduce heat to medium. Boil gently for 20 minutes, or until the meat is thoroughly cooked. Remove the meat and set aside.
Bring broth back up to boil and add the lentils, onion, poultry seasoning and black pepper. Reduce heat to medium and cook for 15 minutes.
Add linguine, carrots, zucchini and salt, if using. Boil gently until pasta is tender.
Add cut chicken and corn. Heat through and serve.