Chicken Smothered in Garlic
Peter J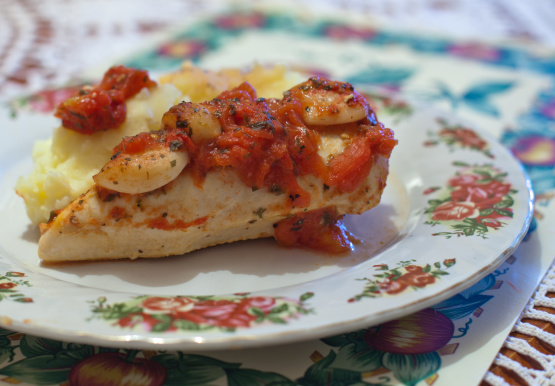 This is an adoption from the Garlic Lover's Cookbook (Cookbook Swap 2007) and a request to post. I made this for my family and the whole house smelled aromatic and comforting. It was a big hit at our house, hope it is at yours.

Wonderful! I blanched the garlic in salted water for 10 minutes and that was spot on to leave it tender after cooking without losing too much of the garlic punch. I served along with mashed potato and a side of steamed vegies, it really would go well with anything that soaks up the great sauce like the suggested crusty bread. I used a good dry white wine, it does contribute quite a bit to the flavor so worth using something decent.
Preheat oven to 350°F.
Saute chicken in pan with olive oil spray til golden outside.
Lay chicken breasts in roasting pan in a single layer.
Lay BLANCHED garlic over chicken breasts.
Whisk together tomatoes, wine, broth, tarragon and marjoram and pour over top of chicken and garlic.
Season with salt and pepper.
Bake for 45-50 minutes.
Served with garlic roasted potatoes, green beans and a loaf of crusty homemade herb bread.