Chicken Skewers With Chirmol Salsa
lazyme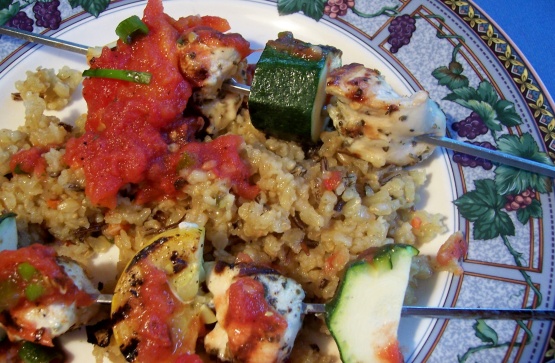 Chirmol, a Guatemalan grilled tomato salsa, means "smashed tomatoes". A nice accompaniment is quick-cooking rice prepared with diced summer squash and grated lemon zest. From Woman's Day, June 20 2006.
For the skewers: Heat outdoor grill. Mix ingredients in a plastic food bag and seal. Marinate for 15 minutes. Have ready 8 skewers.
For the salsa: Coat tomatoes with nonstick spray. Grill, turning, for 5 minutes or until the skins are charred. Remove to a bowl; mash until almost smooth. Stir in rest of ingredients.
Thread chick on skewers. Coat with nonstick spray. Grill 4 minutes, turning once, or until lightly charred and cooked through. Serve with salsa.