diner524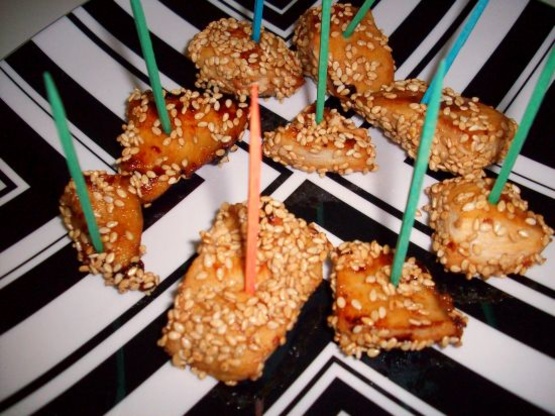 This is a little different from what is already posted. We have a large group of friends that gather to watch Ohio State Buckeye games. I use this group as my recipe guineau pigs! They all loved these!

Easy and tasty. Had these just as an appetizer type thing and plan to use the left overs for a stir fry. Thanks for sharing. Made for ZWT.
Cut chicken breasts in 1-inch pieces and place into a shallow dish.
Combine lemon juice, soy sauce, sugar and sherry. pour over chicken and marinate, refrigerated, at least 30 minutes.
Remove chicken from marinade and saute in butter 5 minutes. Dip in sesame seeds. Serve with wooden picks.