Chicken Scarpariello - Country Style
bee nice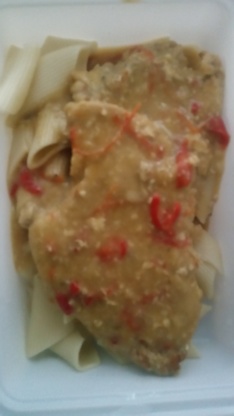 "Fuggeddaboutit!" A favorite dish of the wiseguys. Make this for dinner and, ba-da-bing, you're ready for an evening with the Sopranos. This is one of my all-time favorite Italian-American chicken recipes. Be sure to serve some crusty bread to sop up the sauce.

First I would like to say that my fiance took the initiative to make this recipe. This came out so delicious I can't express in words. The picture is leftovers because I didn't stop myself in time to take a picture of the freshly made meal. Although, he did alter a bit by not adding mushrooms and maybe another ingredient but all in all it was the recipe exact. Happy cooking and eating :-)
In a skillet, heat oil. Add chicken and sausage in batches; brown on all sides. removing pieces to a plate as they brown.
Discard all but 2 tablespoons drippings from pan. To hot drippings, add the mushrooms, red bell peppers, sliced cherry peppers, onion, potatoes, and garlic; saute until tender.
Return chicken and sausage to skillet. Add salt, black pepper, the rosemary , the broth, the wine, and lemon juice. Bring to a boil; lower heat and simmer, covered, until chicken is tender, about 25 minutes.
Remove chicken and sausage from skillet; arrange on warm serving platter.
Skim fat from mixture in skillet.
In a small glass measure, mix flour with 1/4 cup water until blended. Stir into liquid in skillet. bring to boiling, stirring constantly; boil for 1 minute, stirring, until mixture thickens.
Spoon sauce over chicken and sausage.