diner524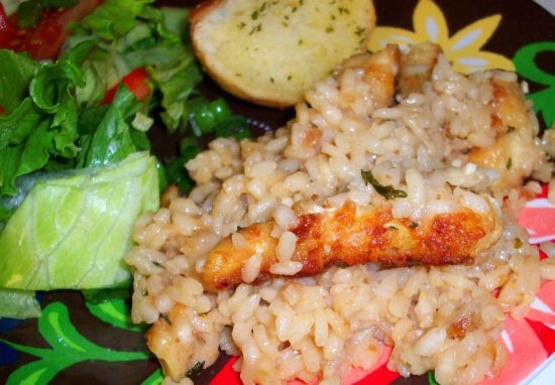 Delicious!!! This came from an online friend and it's just to die for!!

A good recipe with some tweaks. I used seasoned croutons and crushed them as my breadcrumbs. I also used more garlic added the garlic about 1-2 mins before the rice so it didn't burn. The lemon in the broth seemed to make it taste a bit sour while I was tasting, so I added some sugar to balance it out. Perhaps low sodium chicken brother should be used, because I used normal broth. I would not add the chicken to the risotto after the 4th serving as instructed in the recipe, but just serve on top of risotto to give a different texture of crunch from the chicken. The chicken is delicious on it's own! The dish is very monotone with just one color so I would add vegetables to it - perhaps red bell pepper and peas.
Beat egg in a large bowl. Add chicken pieces and toss to coat.
Combine bread crumbs with 1/4 cup grated cheese in a large bowl.
Add chicken and toss well.
Heat 3 tablespoons oil in a large, non-stick skillet over medium high heat.
Add half of chicken and stir fry about 5 minutes or until browned and cooked through.
Drain on paper towels.
Repeat with remaining chicken and 3 more tablespoons oil.
In same skillet, heat remaining 3 tablespoons olive oil over medium high heat.
Add onion and garlic and cook until onion is softened, but not browned.
Add rice, stirring constantly, and cook 5 minutes more, making sure rice does not brown.
Add wine, stirring CONSTANTLY, and let wine totally evaporate.
When wine is evaporated, begin adding broth (make sure you keep the broth simmering in another pot!).
1/2 cup (or one ladle) at a time, letting each addition evaporate before adding the next.
After fourth addition of broth is added, begin tasting rice after each addition has evaporated.
Rice should be al dente when done.
After 4th addition, add chicken.
When risotto is to the desired consistency, remove from heat and stir in butter, grated cheese and parsley.
Serve immediately.