Chicken Scaloppine With Lemon Glaze (Low Fat and Delicious!)
Nif_H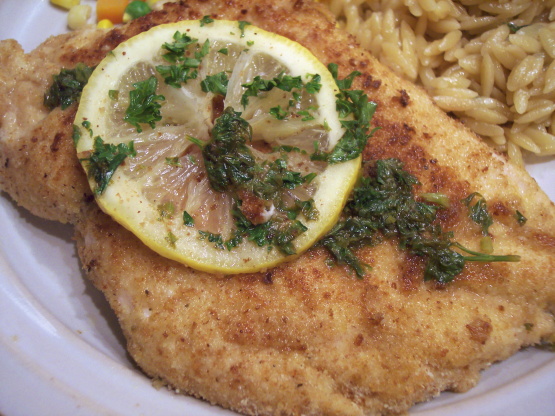 This is a wonderful lower-fat restaurant-quality dish that is easy to make, I also like to add in a few tablespoons of capers and cook with the lemon glaze if you are a lover of capers then add them in as it really adds to the flavour of this dish --- this lemon sauce is not a heavy creamy sauce which is what makes this dish lower in fat, it is more like a glaze that soaks into the chicken, and I would strongly suggest to double or even triple the glaze I most always do, and please be certain to use only dry breadcrumbs as fresh will not stick to the chicken as well --- this is *very* good!

Really, really tasty. I implemented some of the (minor) tweaks suggested, all of which I recommend: I used panko crumbs, doubled the sauce, thickened with some cornstarch & water, and added capers. Definitely easy to make but notwithstanding how easy it was, I'd say it's company worthy. I'm a big fan of this recipe.
In a small bowl or shallow dish whisk together mustard and eggs; set aside.
Combine the dry bread crumbs with poultry seasoning, garlic powder and seasoning salt; spread on a piece of waxed paper.
Dip the breasts firstly in egg/mustard mixture (shake off any excess egg) then coat well with the crumb mixture, pressing downs with hands to adhear the crumbs to the breast.
Heat the olive oil in a skillet over medium heat.
Add in the chicken and cook for about 5 minutes on each side, or until it is no longer pink inside; remove and transfer to a plate to keep warm.
For the glaze; in the same skillet add in the broth, lemon juice and 1/4 teaspoon salt (or to taste, if using capers add in now) bring to a boil scraping any brown bits from the pan.
Add in lemon slices and parsley; mix to combine for about 1 minute.
Spoon the glaze/sauce over chicken.
Delicious!