Chicken Scaloppine Like Carino's
diner524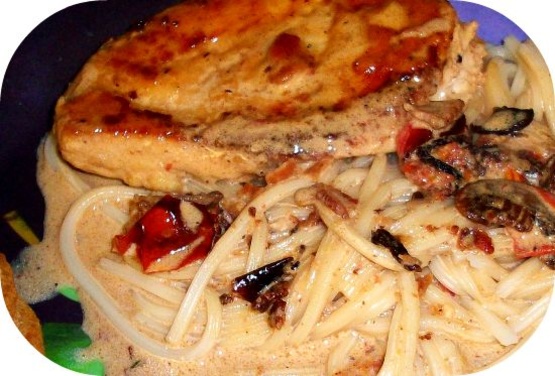 I had to try to find a recipe for this. It is scrumptious! From Uncle Phaedrus' website. EDIT 2/18/2013 - Having made this several times, and taking one of the reviews in to account, I've decreased the salt to 1/2 teaspoon and changed the 1 tsp of garlic salt to 1/2 tsp garlic powder. In cooking, I've also made the change to A) dredge the chicken breasts in flour prior to sauteing, and B) remove them to a warmer while making the sauce, then spooning the sauce over the crispy scallops when plating. This is now EVEN BETTER! :)

This was really good, thanks for posting!! The sauce was a little bit too salty for my taste, so I will cut back next time on that. I'm also going to toss in the bacon right before serving... it got way too soggy when added with the tomatoes & mushrooms... it was kinda gross... I scooped most of it to the side of my plate.
Combine Lemon Butter (first four) ingredients in a mixing bowl and beat at a medium speed until a smooth consistency in the batter is formed.
Once combined, keep refrigerated until needed.
Put Spaghetti on to boil & prepare as you usually would, to al dente.
While it is cooking:.
Butterfly each chicken breast, or place between 2 pcs of plastic wrap, flatten with a mallet. (you may cut to size, as you wish, e.g., 4, 6, or 8 pieces, your choice & depending on the size of the breasts).
In a warm saute pan, melt butter.
Dredge chicken in flour.
Saute chicken in butter until it is golden browned & *JUST* done.
Remove to a warm plate or warming plate or oven.
To pan, add tomatoes, mushrooms, bacon, and spice mixture.
Simmer until tomatoes begin to dissolve.
Add heavy cream and allow to boil to the middle of pan.
Remove from heat, add one cup lemon butter, and fold together to make sauce.
Plate spaghetti, top with scallop of chicken & spoon sauce over.