teresas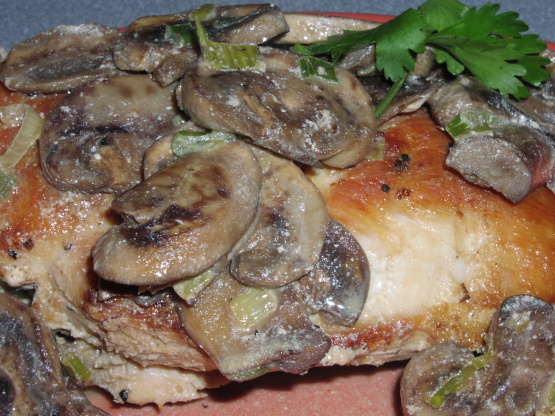 Very nice meat dish for dinner guest that is easy . Great served with roasted garlic mashed potatoes

This was a really great dish. I used chicken broth in place of the wine as well. I also sprinkled my chicken breasts with a little flour, salt and pepper before cooking. We really enjoyed this dish. It is light tasting and not heavy at all. I served mine over penne pasta with broccoli. Thanks for posting! Made for Holiday Tag November 2009!
Melt half the butter in a large saute pan add the mushrooms and saute until tender. Remove from pan and set aside.
Melt remaining butter and add chicken and cook until golden brown and cooked until no longer pink.
Remove from pan and add green onions, wine and boullion. Bring to a boil and simmer until reduced by half. Add cream and cook until slightly thickened. DO NOT BOIL.Return mushroms and chicken to pan and reheat.