Chicken Sausage Stuffed Peppers
SGpratt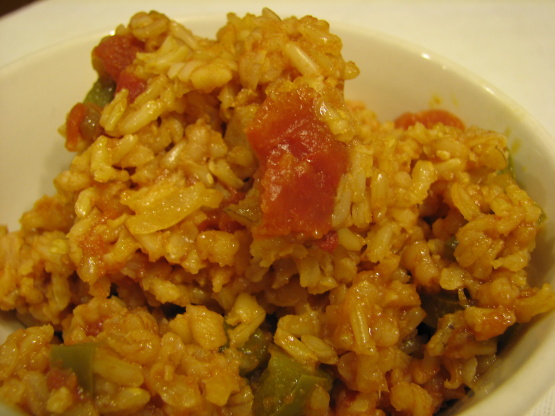 I was wanting to try something new and this was a BIG hit with my family.... including my 3 kids!

This was a good recipe. I used brown rice and I browned all of it in olive oil. I used apple-maple sausage and canned diced tomatoes. I added some minced garlic to the diced green peppers and onions. Next time I'll also add 1/2 tsp cumin and 1/4 tsp chili powder for some additional flavor. I didn't cook the peppers long enough (35 minutes), so they were a bit too crunchy and my husband didn't care for the ketchup/tomato topping. The filling was very good and I would consider serving it on its own minus whole green pepper. With a little tweaking, I will make this again. Made for PAC Spring 2010.
rinse rice thoroughly , brown half rice in butter. Add the rest of the rice, water and 1 can of tomato sauce. Mix. Bring to a boil, then turn heat down to low, simmer for 20 minute.
remove casings from chicken sausages and pulse through food processor until ground. brown, add diced tomato and 1 can of tomato sauce. Mix and set aside.
saute the diced pepper and onion , add to chicken and tomato mixture.
add rice, mix well.
Clean and stuff the remaining 5 peppers with rice mixture.
mix together tomato paste, 1/2 can water, and ketchup and put on top of peppers
bake in 350 degree oven , covered for 1 hour.