mtodryk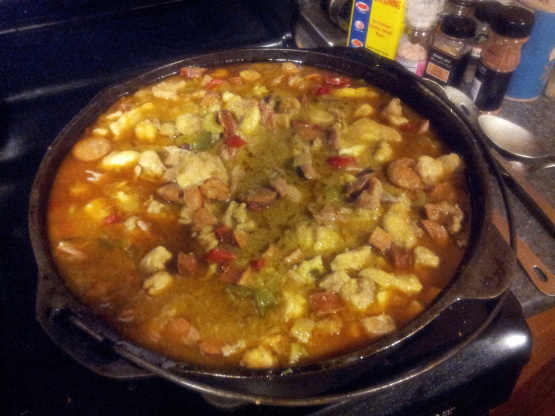 I am storing this recipe here because the cookbook that it is from is so worn out it is falling apart. My favorite gumbo recipe.
Prepare seasoning mix. Cut up chicken. Place chicken on baking sheet and sprinkle with seasoning mix. Let stand 30 minutes.
Place flour in bag. Add chicken and shake. Remove chicken and shake in colander to remove excess flour. Reserve all flour.
Heat one cup lard in large Dutch Oven. When very hot add chicken in batches, stir until browned on all sides. Strain lard and add more to equal 1 cup. Add fat back into pot. Add reserved flour and whisk over medium-low heat until mahogany-colored.
Add onion, bell pepper, and celery at once, stir. Cook until vegetables are wilted.
Slowly stir in stock, stirring as you add. Bring to a full boil.
Reduce heat and add sausage, garlic, salt, black pepper and cayenne. Add chicken and simmer 25 mins., stirring often.
Serve over rice.