HeidiSue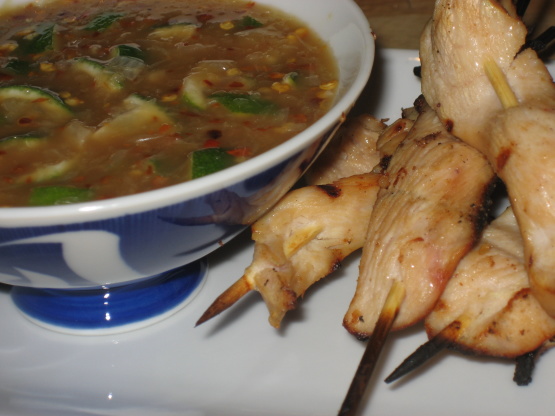 For World Tour II - Asia/Vietnam. Recipe source: Sticks & Skewers by Elsa petersen-Schepelern

Ellie, I'm so sorry this one just didn't work out for us. There is so much fish sauce that it turned out to be way too salty and we are not sensitive to a lot of salt. The dipping sauce was ok, again pretty salty and it did not look good. I added a little lite soy sauce to it and it greatly improved the look.
In a bowl mix marinade ingredients (ginger - peanut oil) together.
Cut the chicken into slices (1/2 inch wide) and then cut these into strips (1/2 inch wide).
Thread the chicken on the (soaked) skewers.
Place skewered chicken on a plate of marinating dish and pour marinade over. Let marinate for 30 minutes while preparing grill.
Drain marinade into saucepan, bring to a boil and then simmer stirring for 15 minutes.
Grill satays until cooked through.
Serve with hot marinade and dipping sauce (see below).
To make dipping sauce: Using a spice mill or with mortar and pestle work the garlic, sugar and chili to a paste. Stir in chopped lime (including the peel) and collected juices. Puree again. Stir in fish sauce and 1/2 cup of water to get righ consistency (may need more water). Set aside.