Chicken Satay W/Peanut-Coconut Sauce
Cherisse E.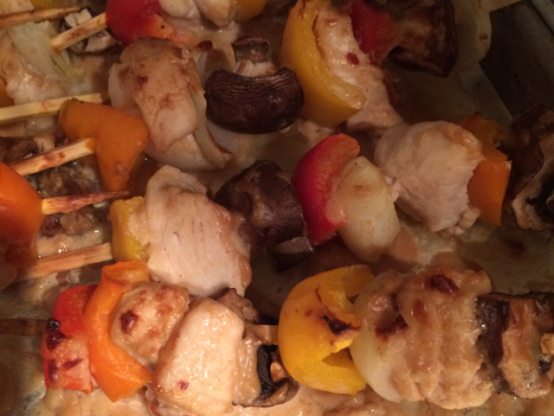 posted by request, makes a nice dipping sauce

Why the heck doesn't thing go up to 10 stars?!?!?! Yep, you read it right! This recipe warrants 10 stars. Even though I made myself something entirely different for dinner than I did for my husband, I couldn't help but eat some of this. He raved and raved (and so did I). At first I was a little concerned once I started mixing the ingredients for the sauce, but after about 20 minutes of being refridgerated, I had to dip my finger in and taste it. Boy, it blew me away. The combination of the coconut, PB, and red peper were amazing. You can taste each ingredient separately. At first you taste the PB, then within a few seconds you taste the coconut and a few seconds after that the red peper hits. Then, you get the full flavor of it all. I made instant rice and put the chicken on top of it. I heated up some of the sauce and drizzled it over the chicken and rice. I saved some cold sauce in case DH wanted to dip the chicken. Both our meals were devoured in litterally 5 minutes (took me 2 hours total cooking for both meals - includes marinading time). LOVE LOVE LOVE this recipe! Thanks again Chia!
mix first 8 ingredients, remove 3/4 and refrigerate.
cut chicken into strips and marinate in remaining sauce for 1 hour.
heat broiler, thread strips onto skewers and broil about 6 minutes.
bring refrigerated sauce to room temp and use as a dip for the chicken.