Chicken Saltimbocca With Lemon Sauce
Prep 10 mins
Cook 12 mins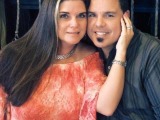 From Bon Appetit, March 2007.
Directions
Place chicken between 2 sheets of plastic wrap on work surface.
Using mallet, pound chicken to 1/3-inch thickness.
Sprinkle chicken with salt and pepper.
Place 2 sage leaves atop each chicken breast half.
Top each chicken breast with 2 prosciutto slices, pressing to adhere.
Spread 1/2 cup flour on plate.
Turn chicken in flour to lightly coat both sides.
Melt butter with oil in large nonstick skillet over medium-high heat.
Add chicken, prosciutto side down; cook 4 minutes.
Turn chicken over and cook just until cooked through, about 3 minutes.
Transfer to platter and cover to keep warm; reserve skillet.
Whisk wine with remaining 2 teaspoons flour in small bowl.
Add broth and lemon juice to same skillet; bring to boil.
Add wine mixture; whisk until sauce thickens slightly, about 30 seconds.
Season to taste with salt and pepper.
Spoon sauce over chicken.
Reviews
Most Helpful
Wonderful! I only used 2 breasts but made the entire sauce recipe. This was quick and easy but wonderful flavor. We will be having this one often. Served with Parmesan Spinach Cakes.

Just terrific. For once I didn't change a thing and it was perfect as written. Twas enjoyed by adults & teens alike and I suspect even wee ones would love this dish. I went with ChicagoRN's idea of doubling the sauce...absolutely the right idea.

This was really, really good and not very difficult to make. I doubled the sauce, then added about 1/4 cup of heavy cream to it to make a lemon-cream sauce...devine! Will definitely be making this again!