Chicken Saltimbocca Alla Romana
Rita1652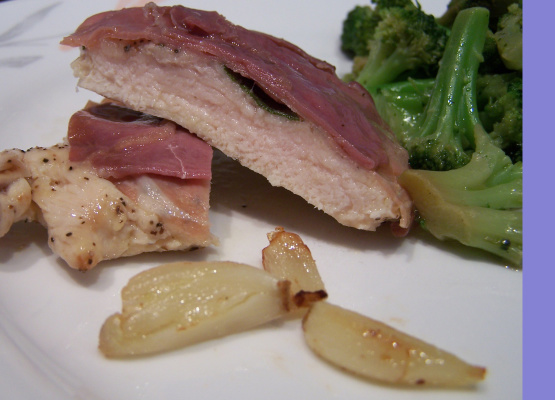 This wonderful recipe produces tender chicken cutlets wrapped with thin slices of Prosciutto di Parma topped with fresh sage leaves in a white wine reduction sauce. It's pretty easy to prepare and produces wonderful results.

I sauteed 6 small garlic cloves in the oil before frying the breasts. Removing them as they got translucent to golden brown. My 2 breasts were 16 ounces so I cut them and pounded making 5 pieces. 2 sage leaves per the 5 breasts and doubled up on the prosciutto. I didn`t used the wine. But did saute broccoli in the remaining oil/ butter and yummy bits in the pan. Thanks.
Place chicken cutlet on a cutting board and cover with a sheet of plastic wrap. Gently evenly pound the cutlet to 1/4 of an inch thick.
Season both sides of the cutlets with salt and pepper.
Place 2 sage leaves on each cutlet and top with prosciutto.
Cover the cutlets with a sheet of plastic wrap and use the meat mallet to lightly pound each cutlet to adhere the sage and prosciutto to the chicken.
Heat a large saute pan over medium-high heat.
Add butter and oil and heat through.
Place the chicken cutlets in the pan prosciutto-side down and cook until crisp, about 2 minutes.
Turn the cutlets over and cook until done, about 1 minute more.
Transfer the cutlets to a platter and tent with aluminum foil.
Return the pan back to the heat and add the wine, scraping up any browned bits for them bottom.
Cook until the wine has reduced by half. Add the cutlets back to the pan to warm through and coat well with the sauce, serve immediately.
Enjoy!