samcp4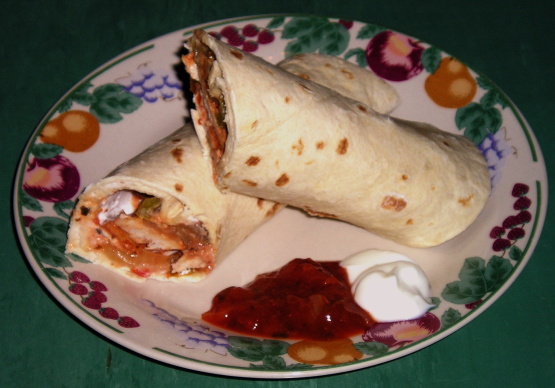 A versatile recipe, add other veg, or make it hotter by adding chili if you like. I serve this with a green salad. For a lower fat, but just as tasty meal use non fat greek style yoghurt instead of Sour cream. Add a little lemon juice to the yoghurt for a sour taste.

I had a deliciously spicy chicken wrap during a layover in Abu Dhabi airport (of all places!) and have been thinking and thinking of it for a while. I tried out this wrap recipe to recreate my food memory and though it was not the same - the Abu Dhabi wrap had a dry cumin-tinged red glaze on the chicken, without any sour cream and salsa - it was still so good ! I used greek yogurt instead of sour cream, and shredded some Jack cheese to tuck into the filling before wrapping. Very good and most importantly very easy. My chicken also came out on the "wet" side as one of the reviewers mentioned. Yum !
Pre heat the oven at 175°C.
Mix together the chicken , red onion, green bell pepper, 100 ml salsa, honey, garlic, cumin, and pepper.
Heat the olive oil in a baking pan.
Place the mix into the pan and cover with foil.
Cook for approximately 20 minutes, stir and cook uncovered for a further 10-15 minutes.
Warm the tortilla wraps.
Take each wrap and cover with 1 tbls of salsa and 1 tbls of light sour cream.
Fill each tortilla with an 1/8 of the chicken mix, and roll into cylinders.