Chicken Salad With Peaches and Walnuts
Ms B.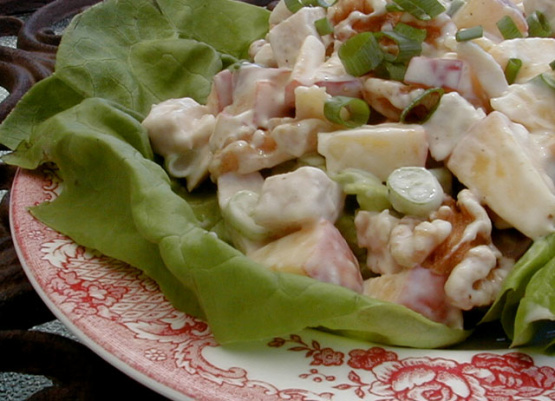 This is a refreshing summer salad for a luncheon or light dinner, especially when the peaches are coming fresh off your own trees.

This is a very simple, fresh tasting salad that made a nice lunch. I agree with another reviewer and think next time I will decrease the mayonnaise just a little and increase the lime juice. The flavor of the fresh ginger was detectable but subtle to me. I added just a hint of salt to bring the flavors forward. Thanks for the opportunity to try something new.
Boil chicken breasts for 20 minute cool and cube.
peel peaches (if desired) and dice.
roughly chop walnuts.
thinly slice green onions.
combine chicken, peaches, onion and walnuts in large bowl.
combine dressing ingredients, mix well.
pour over chicken mixture and refrigerate until ready to serve.
To serve put salad greens into individual bowls and mound chicken/dressing mixture on top.
Or place serving bowls of both the chicken and salad greens and let people dish their own.
A fresh loaf of herb bread compliments this salad for a complete meal.