Chicken Salad With Fruit and Toasted Pecans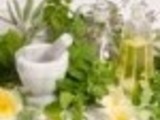 This recipe is from Raising the Salad Bar, a book I recieved with the Cook Book Swap.For a luncheon or a buffet serve salad in "cups"of Boston lettuce leaves.
Directions
Core and dice the apple and pear. Sprinkle the fruit with 1 or 2 teaspoons of fresh lemon juice to keep it from discoloring. In a large bowl, combine the diced chicken, apple, pear, grapes and chives.
To make the dressing, in a small bowl, whisk together all of the dressing ingredients.
Just before serving, add all of the dressing to the chicken salad and toss well to combine. Adjust seasonings, adding additional salt if necessary. Top with the toasted pecans.