Chicken Salad With Dried Blueberries
GaylaJ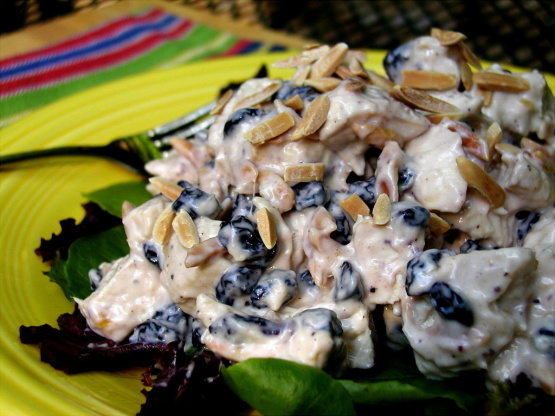 I was searching for recipes using dried blueberries, and I found this one on the website of Michigan Blueberry Growers Association. Prep time does not include chill time, but I think it is best after chilling for a couple of hours. Blueberries are full of antioxidants---eat up!

I chose this recipe because 1) it was unbearable to cook and I wanted something light and 2) I had some cooked chicken in the freezer to use up. With the cost of dried blueberries ($5 for 1/2 cup)....this salad was nice! If cost is not a factor...then this salad was a 4.5 !! I served this over a 2 huge romaine lettuce leaves and fresh corn on the cob. I used my own recipes for the cooked chicken and chutney (Recipe #286497 and Recipe #375626) I had cut the recipe in half and that served 3 quite nicely. Even though the blueberries were really a nice touch, next time, I will might use fresh mango and add some feta cheese.
Combine chicken, blueberries, and almonds.
Combine mayonnaise, sour cream, chutney, lemon juice, salt and pepper; add to chicken mixture and toss well.
Cover and chill.