Chicken Salad Stuffed Tomatoes
Marlene.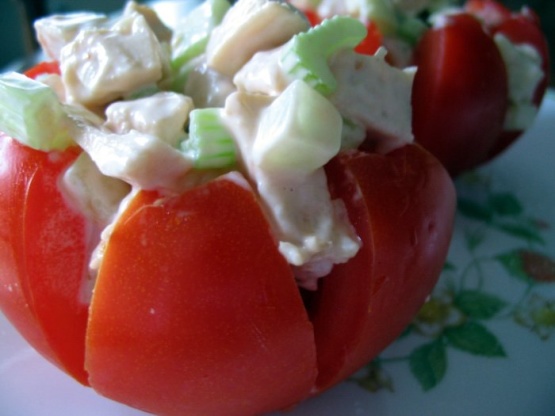 As pretty as a flower on the plate, this delicious recipe hails from the Mississippi Valley chapter of the United States Regional Cookbook, Culinary Arts Institute of Chicago, 1947. Variations: substitute crab, meat, tuna or salmon for chicken.

These are so refreshing on a hot summers day! A meal in themselves here and we loved them! I did use fat free catalina, just personal choice and will definitely make again. So simple and easy to prepare, light eating when you want something that's not heavy. Thanks for sharing!
Mix first four ingredients and chill at least 30 minutes; gently mix in 1/4 cup mayonnaise.
Wash and peel tomatoes; cut out blossom end and cut tomatoes from top to within a quarter inch of bottom, into 5 or 6 wedge-shaped sections.
Lightly salt and chill.
Pull wedges apart to resemble petals of a flower, place on chilled plates and fill with chicken salad; garnish with a small dollop of mayonnaise.